Virtual Interior Design/E-Decorating
"Eye on Design" Archive from Mann Report (Article By Gail Green)

With the advent of the 21st century and the technological advances created by the computer, communication became a vastly different vehicle of transmission. In addition to the computer evolution came the financial crisis, creating an explosion in budget conscious online advertising and marketing of goods. Businesses without a website find it virtually impossible to purvey their produce. Nowadays, this is true for all kinds of professionals, as well. The age of mailing brochures and marketing materials, while extant, is not as common as in the past. More and more people resort to researching resources on the web.
And design, decorating? Where did that leave that noble, ancient profession? For starters, most professional designers have web­ sites nowadays. When a potential client wants to see our work, they go to the web. No longer do we have to lug around a hard encased portfolio of pictures. They are now artfully, techno­ logically recreated on the computer, more alive than ever. Now reaching global audiences, your work can be seen as easily in China as by your next-door neighbor. And for those who require a more three-dimensional experience, a designer can now video their work, so that the consumer gets a completely 3-D virtual experience, simulating the feeling of what it is like to be in that space themselves.
As for the downturn in the economy, the financial situation dried up a good portion of the luxury market. So, with a limited amount of money in which to design or decorate yoked to the ability to communicate and research through the computer, up cropped eDesign.
Virtual interior design, also referred to as e-decorating or e-design, is an alternative method of providing design services to a less well­ heeled audience. It is an online global vehicle that allows for the professional designer to serve a wider, more budget conscious clientele. Because there is usually little to no face-to-face interaction between client and designer and items are specified via the internet, the cost is driven way below the usual decorating budgets. It is a cost effective, efficient method of providing design expertise and skills for those who wish to decorate, design, or create rooms without budgetary or location restraints. One can spend as little or as much as one likes. It is a do-it-yourself with designer approach.
Because these design services are transmitted via the computer, designers can create on an as-need basis; that is, they can design per room or per the whole house in an easily phased-in manner, at a pace with which the consumer feels comfortable. The typical client is one who prefers a professional look for less. That is, it is perfect for the busy professional who doesn't have time to go shopping at showroom s with a designer, and who wants individualized design at a fraction of what working with a decorator would normally cost. It is also for the client who doesn't mind doing some of  the purchasing themselves. It is NOT  a do-it-yourself process that does away with the expertise of a designer. Rather, the reverse. It is the confluence of a client who appreciates talent and skill with that of the professional, but who has neither the rime nor the budget to implement a full-scaled design project.
Virtual design is accomplished through several means: a questionnaire, a set of measurements, magazine pictures indicating desired looks, digital photography, and a phone call. The questionnaire gleans from the client what styles, colors, types of fabrics and patterns, etc., they prefer and together with the measurements and pictures, the designer pulls together a design scheme. The process can take as brief a time as five to six weeks, depending on how many rooms or how large a single room may be. Within this short amount of time, the client then receives a box, within which they will find plans, fabrics, and wallpapers, materials for surfaces, kitchens or bath finishes, and other options, depending on what rooms they requested to be designed. In terms of payment, that too is conducted online. There is usually a flat-fee per room paid up front; PayPal takes care of the rest.
E-design, E-decorating has revolutionized the design business, ironically creating a stronger bond between client and designer. Previously, design magazines advocated a do-it-yourself approach, eliminating the skills and talents of the designer. Now, it is financially feasible and desirable to acquire a designer's talent and skills to create a professional look, for much less a price.
While the preferred method of designing/decorating a room is still the customary face-to-face interaction between consumer and professional, Virtual design, e-decorating, allows for a more finished looking project at a fraction of the cost.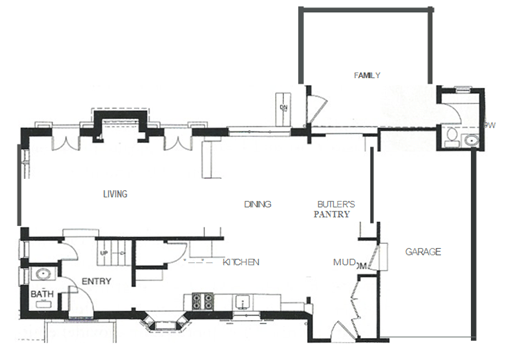 *Note – Article adapted from print. Images reflect reduced quality.
Click here to view original print article.
____
Like this post?
Subscribe to our newsletter for more design tips, tricks and insights!