Introducing eDesign: Interior Design the Faster & Less Expensive Way
– What If Interior Design Could be Faster & Less Expensive –
FOR IMMEDIATE RELEASE
GAIL GREEN INTERIORS LAUNCHES GGI eDESIGN
Manhattan Interior Design, Architecture, and Decorating Firm Offers an Online Service for High-End, Personalized Interior Design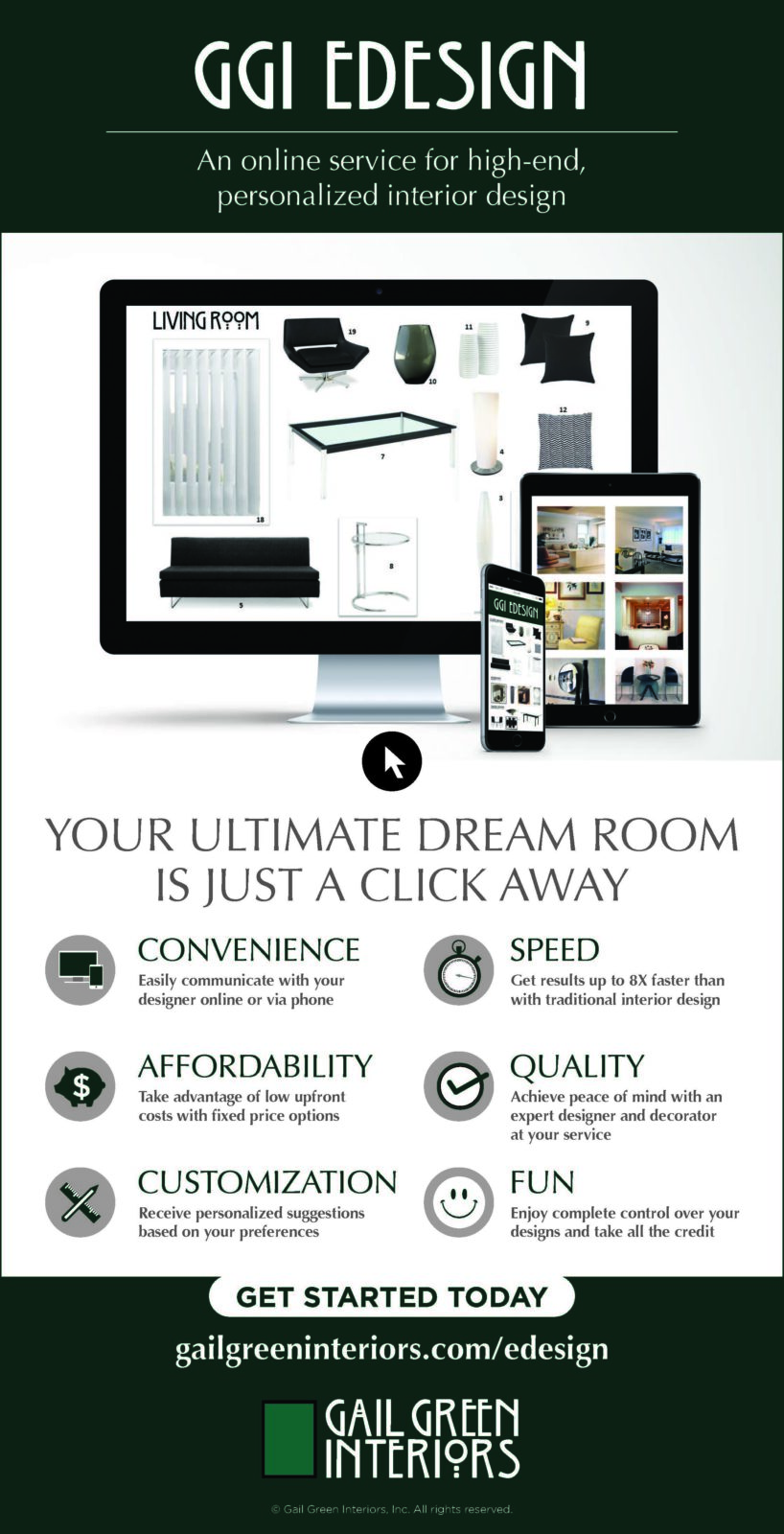 New York, NY — Gail Green Interiors, a full-service New York-based interior design, architecture, and decorating firm, is thrilled to announce the launch of its new online design and decorating service, GGI eDesign. eDesign allows clients to receive professional interior design expertise and guidance quickly in a simple and cost-effective manner, without losing a personal touch. Regardless of location or budget, clients will receive customized suggestions and directions that are tailored to their needs and preferences, empowering them to implement personalized designs at their own pace.
Following today's Do-It-Yourself (DIY) trend, many people are attempting renovation and decoration projects by themselves, only to find that knocking down walls isn't as easy as HGTV leads them to believe. Time, money, and design know-how are all barriers that they come up against–some never even begin their projects because they don't know where to start. These problems highlight the important benefits of working with a design professional: a specialist in form, function, space, and aesthetics, who can identify, research, and resolve design issues.
GGI eDesign is perfect for clients who are interested in a DIY approach, but would still like access to an expert. Of the many options, there are three different fixed price packages: "Spruce Up," "Rejuvenate," and "Sophisticate." Depending on which package you choose, a design professional can help you select the perfect colors, furniture, fabric, window treatments, floor plan, and much more for your project.
"Our new service and platform makes interior design and decorating faster, easier, and more flexible for our clients,"
said Gail Green, founder and principal of Gail Green Interiors.
"Whether a client wants to pursue a project on their own with only a little handholding, or needs complete professional involvement from afar, our new eDesign approach does it all. The best part is that we are there for our clients every step of the way."
Utilizing a user-friendly interface, GGI eDesign puts professional designers at a client's fingertips, making it a high-quality design tool fit for the convenience and speed of the modern world.
Learn More About GGI eDesign Here
____
Like this post?
Subscribe to our newsletter for more design tips, tricks and insights!