"You're The Top:" High-End Design In A Luxury Marketplace, Part 1
"Eye on Design" Archive from Mann Report (Article By Gail Green)

With the luxury marketplace doing better than ever, high-end luxury design and real estate is flourishing. Apartments at the top, that is, luxe-type custom residences, are finding buyers who consider now a very good time to invest. It may not be the "Coliseum," but the size of many of these homes come close. And, the price is right. A bit more room for price negotiation, an available international buyer, and accessible quality tradesmen, all make chis a very amenable time to buy, renovate, design, and decorate.
As Ana Maria Sencovici of AnaandMarie.com, real estate expert and advisor, notes, "the luxury market is definitely picking up as buyers' confidence has been bolstered by the rising stock market and the stabilization of the real estate market in NYC."
So what makes a particular property so valuable an investment other than location, location, location? The desired avenues, the preferred buildings, the amount of space, and the right amenities all contribute to the make-up of the high-end apartment cites Daniella Kunen, a top broker at Douglas Elliman. And, what makes that property so enviable, so marketable?
Starting with a 3 to 5MM+ price tag, these luxe homes are differently outfitted. As Ana Maria astutely observes "High-end buyers don't have the same desire to live in a pret-a-vivre property that is ready to be occupied. They tend towards wanting a larger footprint, one with more specific needs and amenities. As such they are willing to invest in combining rooms and doing construction. They tend to invest in the smaller details that make a home their own imprint." This customization about which Ana speaks is at the heart of architecture and design. It is the pruning, attention to detail, and quality workmanship that differentiates the luxe home from any other. And, it is here, where the inherent value of good design plays an essential role.
From a design point of view, four outstanding aspects contribute to a property's luxist character. They are: a great master plan, an inviting entry foyer, a state of the art kitchen and knock-out bathrooms. It's the packaging, the fine materials and the design innovation that counts.
Master Plan
To begin, a great master plan illustrates "flow," the seductive movement of circulation within and through space. As David Estreich of David Estreich Architects suggests, "The plan dictates a well-fitting relationship between rooms, incorporating a seamless integration of architecture and decoration." Like the bespoke suit, walking through a luxe home feels right. It is an elegant movement that glides one though each room, while taking in the grace and largesse of a space. It's not the size or style that matters; it's the overall composition, and how the rooms interplay. Once the plan is created, the selection of furniture and finishes takes reign. Understated elegance is the cornerstone of luxe design. It is subtle commentary couched in classic simplicity. With no one element overriding the next, the furnishings play in harmony, creating a balance and order to each room. Silk velvets, whose colors change with the time of day and feel like sable, cloche sofas and chairs. Shimmering (though not shocking) silks outfitted with pearls coyly frame windows. Barely noticeable, they highlight the view beyond. Custom-made silver stranded carpets cushion one's feet. Lights radiate from behind hidden sources, creating subtly illuminating auras. Ceilings dip and drop, walls curve and float, and floors shine like planes of glass. It is bespoke design.
Entry Foyer
Perhaps, the most overlooked yet most important room of the luxe home is the Entry Foyer. This oftentimes ignored area sets the tone and feeling for the entire residence. It is one's first and lasting impression upon entering and leaving their home. And, it is here where one is made to feel either welcomed or disoriented. It sets the prelude of what's to follow. Whether small or large, foyers are grand areas. They express the largesse of space from which other rooms radiate.
In creating this special area, the architect/designer carves out space perhaps from an adjoining closet, existing gallery or nondescript assigned area. In addition, ceilings can be dropped or raised or both. Lighting can be installed, cove or decorative, giving it a special aura. Walls can be moved, shaped to create circular, cubed, or differently configured spaces. Niches can be added to enhance the foyer's suggestive aspects. Floor patterns move, similarly defining the area, whether it be through the elegance of a black and white marble floor or the warmth of intricately inlaid woods. Here, thickly clad Venetian plaster may adorn the walls, against which works of art are visually highlighted. The use of glass block or sandblasted glass can be especially inviting as it allows the passage of light to penetrate the space, while being suggestive of what lies beyond.
In the next issue we will discuss kitchen and bathrooms.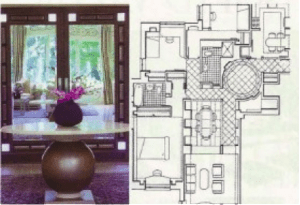 *Note – Article adapted from print. Images reflect reduced quality.
Click here to view original print article.
____
Like this post?
Subscribe to our newsletter for more design tips, tricks and insights!