Trend Setters In The Design Trade
"Eye on Design" Archive from Mann Report (Article By Gail Green)

Twenty-three world-renowned interior designers encountered the challenges of creating luxe spaces at this year's Kips Bay Show House. The most competitive show house in the nation has illustrated the best of the best this year, spaces created by renowned designers such as David Barrett, Christopher Peacock, Gail Green, Coffinier Ku, and James Rixner.
The hallmark of this year's show is modernity. For an event that has its roots solidly planted in traditionalism, the rooms at 14 East 82nd Street showed a distinct inclination towards the modern idiom. This was evidenced not only through the use of streamlined furniture and fabrics, but also through the conscious detailing displayed throughout. For instance, in Coffinier Ku's second floor landing, the designers created a bold and glamorous space, combining symmetry and movement. A sumptuous, curving line motif, expressed through the nail heads studding the leather-upholstered walls, was reiterated in the embossed pattern of the built-in mirror and cashmere pillows. A throwback to the French Deco period, the detail added a freedom and whimsy in counterpoint to the grand scale of the space. Most striking, however, is the swirling nickel, custom-designed console that mellifluously balances the space.
Gail Green's "Night and Day," "Day and Night" modernist baths, an homage to Cole Porter, sharply reflect a simple streamlined look reflective of the 20's. A tapestry of contraries through both color and form, both washrooms reflect the wit and whimsy of that time. For instance, the Hat Box toilet by Kohler illustrates a sculptural look that is functional and aesthetic. And the Roman numeral riles capture the essence of the lyrics "Like the tick, tick, tock of the stately clock."
Christopher Peacock's kitchen, while traditional in style, adds a splash of orange color on the ceiling, giving it a quite modern touch. Modern in feel and style is James Rixner's room "Mid-century Living." Here, classic lines create a chic, luxurious room that is the essence of vintage Manhattan penthouse living. Rixner's pared down sensibility is the perfect approach to this stunning space.
Enhancing the Kips Bay Show House is the pervasive music provided by Compushine, Inc. Through their Control4 system light, music and video are coordinated under one easy to use system. "This system allows for seven different music streams, where the dimmers double as volume controls and just one touch screen can control the entire house," says owner Craig Cohen. Establishing design trends, Kips Bay Designers create memorable spaces that enthrall and delight, amuse and ponder.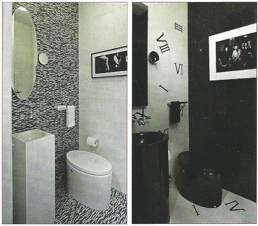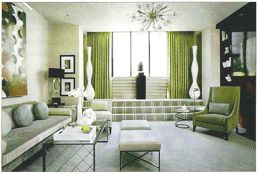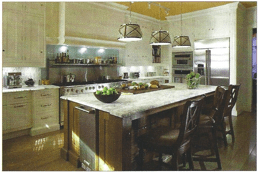 *Note – Article adapted from print. Images reflect reduced quality.
Click here to view original print article.
 ____
Like this post?
Subscribe to our newsletter for more design tips, tricks and insights!