"An Artful Loo" Tribute to Graffiti Artist, Keith Haring
Inspired by the bold visual beauty and graphic imagery of Keith Haring's artwork, we designed a powder room around Ascot's new ceramic tile collection, carried by Hastings Tile & Bath, called "Game of Fifteen." A tribute to the Master Graffiti artist, the tiles have anthropomorphic-like themes that are sharp and chic, graphic and poignant. With maze-like forms visually blending into each other, the images are hardly distinguishable, yet decipherable. At a distance, they form a pattern; up close, they form a story.
Also featured in Gail's room are fanciful light fixtures by Leucos and Ingo Maurer, lyrical linens by Leron, ingenious pieces by Mod Mirrors, and Wendy Mark's striking red "Cloud" paintings. The "Artful Loo" represents a passion for both design and art which ultimately finds its aesthetic confluence in the expression of Keith Haring's whimsical statement of idea and function.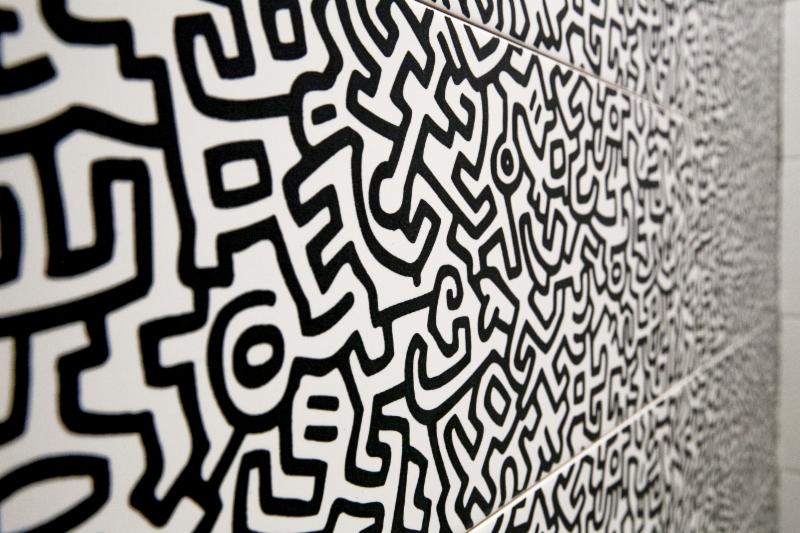 The Kips Bay Decorator Show House is open to the public May 14 – June 11! We hope to see you at this year's Show House where we've taken on The Arthur Sachs Mansion at 58 East 66 Street in New York City's iconic Lenox Hill neighborhood.
More information here: http://www.kipsbaydecoratorshowhouse.org/
Purchase Kips Bay Tickets Here.
Every year, celebrated interior designers are chosen to transform a luxury Manhattan home into an elegant exhibition of fine furnishings, art and technology. This annual prestigious event helps raise critical funds for the Kips Bay Boys & Girls Club. Since its inception in 1973, the Show House has raised over $18,000,000 for much needed after school and enrichment programs for New York City children. Today, the club is proudly one of the most prominent and responsive youth development agencies in New York City and a "flagship" of the Boys & Girls Clubs of America.
____
Like this post?
Subscribe to our newsletter for more design tips, tricks and insights!