A Cabinetmaker's Vision: Surface Not Surfeit
"Eye on Design" Archive from Mann Report (Article By Gail Green)

In design, a cabinetmaker's work may be com­pared to that of a fine bookbinder. The tradesman cools and grooves a design upon the surface of the binding, in this way fulfilling the artist's vision. In this same way, a woodworker refines the designers image upon the surface of a wall or piece of furniture, turning a two-dimensional drawing into a three-dimensional form. A truly expert product of woodwork is the marriage of these two minds: the architect/designer and the cabinetmaker.
Most people think of cabinetry as the modern built-in, a design that insists it has always been a part of its landscape. But cabinetmakers of old, and sometimes of the very best of the new, are so refined in their craft, their wares are constructed like furniture. In fact, they very often are finely designed pieces. Not purple laminate, but holly wood with mother-of-pearl inlays. Here, form presides over function, though functional they are.
As designers and architects, the good craftsmanship of woodworkers is essential to the success of our business. It is also important that a shop understands the necessary attention to derail required for the proper finishing of a piece, a quality that separates the good from the great. For instance, at William Somerville cabinetmakers, beautiful millwork is not enough. Each project runs from process of sketches to finishing touches. Finishing on time and on budget is a given. In addition to coordinating site conditions to the scheduling of trades, from full scale mock-ups and shop drawings co the final walk through, they consider every part of the process in detail.
Turning beautiful architectural concepts into reality, by custom grinding and properly tooled knives, they sculpt wood  to  create both built-in cabinetry and free standing pieces of the highest standards. From hand carving, hand finishing, and custom coloring, a one of a kind look is produced to satisfy the architect's and designer's vision. As David Estreich, principal of David Estreich, Architects (www.DavidEstreich.com) says of working with a cabinetry shop, "they help us facilitate our work, not in one step, but as an evolving process. So that, from design sketch to shop drawings, they assist us in developing and refining our ideas in a collaborative effort to create the best possible piece. Even when we take our clients to see our work in the making, we are refining our design, along with the woodworker, right down to the finishing details, like a hand-made suit, perfectly matched to the end-user."
Together the architect and cabinetmaker can create different interpretations to basic cabinetry. Whether it is adding sandblasted glass doors co a walled unit, or applying molding to a more traditional piece, they add interest and variation to the typical. For instance, instead of a plain wood cop co a cabinet, one can add glass, stone, man-made surface material, fabric, leather, and any combination thereof. They will assist the designer in the working out of how such designs are constructed. Each reveal, each detail is drawn to precision, so that mistakes do not occur in the final product. Kristine Harington of William Somerville Cabinetry (www.williamsomerville.com) says of the relationship between their shop and the architect/designer "We look forward co projects where we are able to work with the architect/ designer from the concept stage. Working with professionals through the details, materials and hardware to enhance the concept, and ultimately realizing their vision, makes for a superior product."
With any millwork project, be it furniture or built in cabinetry, form marries function. Aesthetics are first and foremost in joining of the millworker /craftsman with the architect/designer at the beginning. To begin this process they may meet to discuss material and construction. Type and veneer, inlays, hardware and other ancillary applications are essential to the project in its attention to detail. The millworker will develop the construction of the piece, while keeping the design intent. While the decorative hardware is only one part of the design, its ability to function really puts the cabinet maker's expertise to the test. Millworkers are always looking for new, old or just better hardware to get the job done. Kristine says, "As crafts­ man, it is very rewarding to be involved from the beginning. We take pride in our work and abilities. Having the architect/designer follow the piece through the drafting, fabrication and finishing, we experience their creativity come to fruition."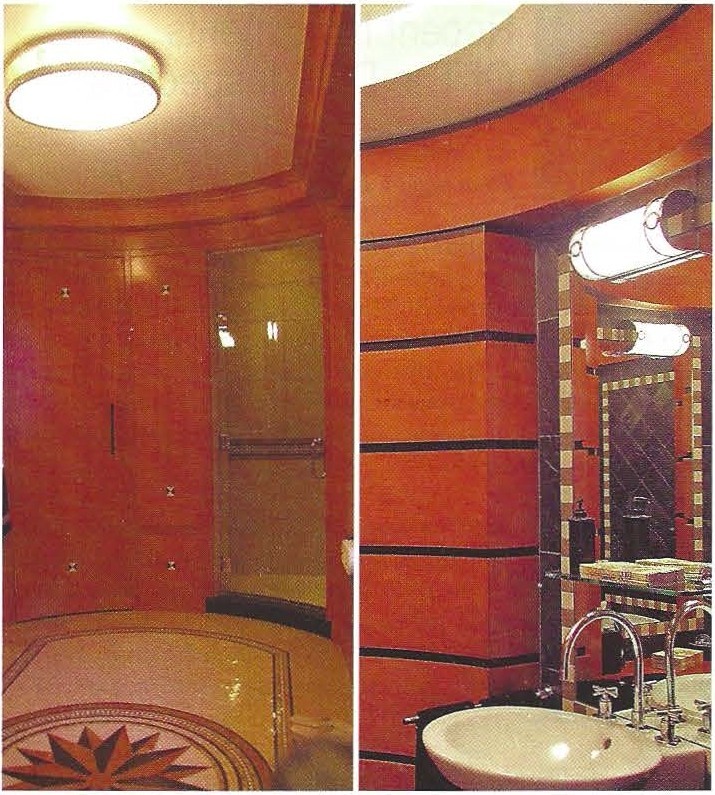 *Note – Article adapted from print. Images reflect reduced quality.
Click here to view original print article.
____
Like this post?
Subscribe to our newsletter for more design tips, tricks and insights!