Halstead Property: Hidden Secrets of an Interior Designer – With Joann Wasserman
HIDDEN SECRETS OF AN INTERIOR DESIGNER
A Q&A with Joann Wasserman, Licensed Assoc. R.E. Broker, and Gail Green of Gail Green Interiors.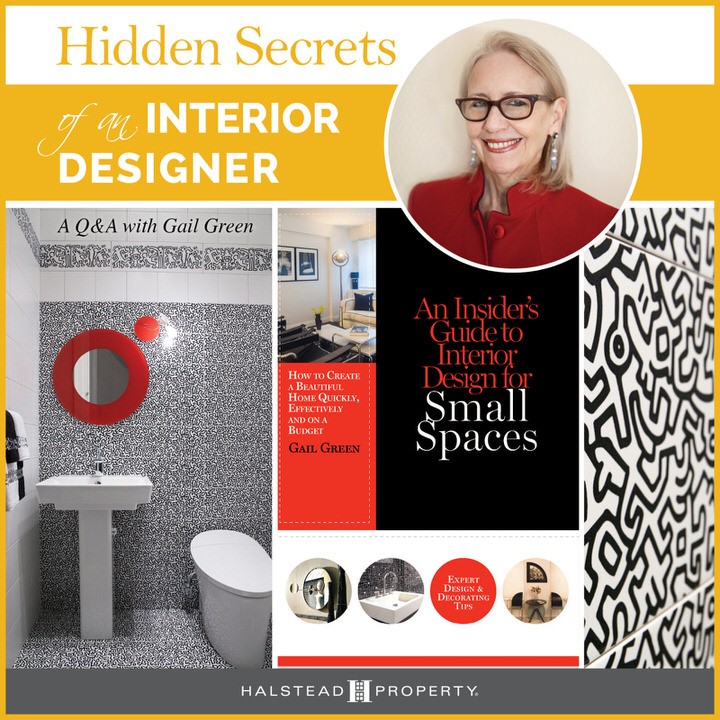 Photo courtesy of Halstead Property.
Why did you become interested in interior design and decorating?
It began with a fascination for the historical and intellectual applications of decoration and design.
Then, as I began working more closely with skilled architects, I noticed other possibilities. I became intrigued with wanting to turn two dimensions into three. Finally, I realized that I felt drawn towards the idea of innovation as it relates to space. By adorning a space with beautiful materials and objects, you have the power to create something new and exciting—something that can benefit all.
What aspect about interior design do you love the most?
I love the challenge of creating a functional and aesthetic three-dimensional space out of a mere imaginative concept—basically creating something from nothing, sparking the imagination to evolve ideas into reality. Selecting materials, colors, finishes, and furnishings that marry the surrounding architecture and make it look perfectly suited to the space is a very challenging and enjoyable journey.
I recently participated as one of the designers for the Kips Bay Decorator Show House—an exciting annual event that helps raise critical funds for the Kips Bay Boys & Girls Club! Every year 20 or so interior designers are chosen to transform a luxury Manhattan home into an elegant exhibition of fine furnishings, art and technology. It is always such a thrill to see how each designer applies their individual imaginations and styles to their designated rooms. This year I created a powder room inspired by the artist Keith Haring—I used tiles that feature his bold and graphic art. Visit the show house to see for yourselves! It's open until June 11.
What are some of the biggest misconceptions people have about hiring interior designers/decorators?
One misconception that comes to mind has to do with the various roles of the design professionals within the design trade. It can be confusing.
For instance, Interior Designers help with the spatial planning—the design and renovation of interiors. They help enhance the look and function of a room while Interior Decorators primarily focus on aesthetics and generally do not take part in renovations or structural planning.
Another common misconception revolves around the cost and value of using a professional designer. Hiring a seasoned designer is commonly viewed as a luxury expense—one that may not always be necessary for the average person. In reality, if your home is important to you, a mere consultation with a professional is often a cost and time saving measure. Involving those with the right resources, expertise, and methods early on in the process can avoid a lot of headaches, and result in a happier home.
How do you describe your personal style?
My style is based on balance, order, and harmonious symmetries in a classic "modern" way. It is the confluence of light, bright, and airy elements combined with spatial flow and feel, couched in a chic and classic aesthetic. Using common elements in unusual and unexpected ways is a distinct feature, as well as attention to detail and quality workmanship. This is often achieved by synthesizing design and architecture to deliver classic, elegant, chic interiors.
What inspired you to write your new book AN INSIDER'S GUIDE TO INTERIOR DESIGN FOR SMALL SPACES: How to Create a Beautiful Home Quickly, Effectively and on a Budget?
With over 30 plus years of working with spaces of all sizes and shapes—particularly in New York City—I've learned many things about designing challenging spaces. Small apartments and rooms are usually the difficult culprits as they require a specific design approach, utilizing a combination of problem solving ideas and creativity. As a result, however, the finished spaces tend to be highly effective and aesthetically pleasing, more so than one would have otherwise expected. They are often better than larger spaces, depending on your lifestyle and preferences.
The catch 22 is that those who have smaller spaces are less likely to invest the time or energy into optimizing their living conditions, including conferring with a designer like myself. This means that they either don't know where to start, or never start at all. Therefore, I thought that it would be helpful and educational to share some quick and actionable tips for how to make the best of a small space. Whether you own or rent, I want to provide insight and professional techniques to improve and transform your home—all without breaking the bank.
—-
Visit Gail Green Online!