Windows: Eyes Of The House
"Eye on Design" Archive from Mann Report (Article By Gail Green)

While it is commonly quoted that "the eyes are the windows to the soul," in speaking of houses or apartments, one may safely say that they are the eyes of a home's interior. In looking in from the outside, we glimpse a living microcosm. From the inside out, we see the reverse. From small world to large, from the safety and comfort of within, we peer at a landscape uncertain and curious. It may be beautiful with lush flowers and fauna, it may be panoramic in line with a bird's eye vista, it may be terrifying in its view of some unsettling interaction. But, for sure, it is nature and the world at large. It is, in effect, the unknown, however mannered it may superficially appear. Our comfort and security lies within the parameters of our home. It is our microcosm, created by us to our own set of predilections and preferences. It is our little, ordered world.
Windows mediate between the outer landscape and the interior dreamscape. They frame our view, both physically and metaphorically. We may wish them to be fearlessly open to the exterior like Phillip Johnson's Glass House. Or, we may desire them to give a more opaque vista, as Chareau's Maison Verre (glass block) in Paris. Or, we may simply and more traditionally, want an opening, which we can then highly regulate. Window coverings create a "blinking" of the eye, sometimes open, sometimes closed, usually in between. The important thing to know here is how-not why-they perform as such. They are the bridge to the outside, always mediating and balancing out from in.
For the homeowner who wishes full disclosure, who wants that open, airy feel, draperies must surely frame the opening. Some may argue that they are not even necessary. But, here is where subtlety and attention to detail enhance the decoration of a room or wall. Done correctly and to the proportion and scale of the windows they surround, draperies enhance a view. Think of artwork. Most of the time, paintings have frames. These frames serve the purpose of structuring the composition within; as such, it is a source of containment. They separate and define the boundaries of art to wall; so too with window treatments. In effect, they are the eyelids: either blatantly exposing, subtlety informing, or fiercely protecting the viewer from the view beyond. They let in; they let out.
In a modern house, sheer draperies, not covering the windows, but lying flat upon its contiguous walls, provide a sexy subtle frame. Again, they soften the transition between outside and in. Usually affixed to an overhead pole, the sheers flail with the wind, flirting with the floor below. Occasionally, modern apartments have a series of ganged windows that stop short midway up the wall. In these instances, roman shades that fall to the top of the sill are most effective. Set within a pair of side panels, the shades create a perfect composition within the window frame. Beautifully poised under a roman shade is either the opaque roller or wooden blind. As Paul Hagar, marketing director of Hunter Douglas Blinds notes, "The wooden blind is very effective in its slat eye-like movements, by being able to fully or partially close. This effective jalousie is brilliant in its multi-tasking abilities." Here, the substantial horizontality of the blades counteracts the strong verticality of the window opening, giving it a nicely balanced look.
Lest one think that window treatments be limited to fabric panels and pole valances, think again. Metal, plaster, wood, leather, glass, tiles and paint are only some of the inventive materials now used to create inventive coverings. Master craftsman Lori Hertzan, of Ornamental Compositions, created a composite plaster valance for a Josef Hoffman style conservatory. For an entry gallery, we adapted a Ruhlmann geometric pattern, which Lori then recreated on a white painted cornice. And, in a kitchen with vintage porthole windows, a ship-like drapery was constructed to fall from a mariner's pole flatly down, with the release of its ribbon tie.
As the eyes of the house, windows need and work best with framing devices. Drapery treatments physically and aesthetically accomplish give an enhanced appearance inside and out. In their subtle and seductive application, they lead the viewer to a wider perspective, framing their vistas. From the exterior, they invite and give a welcome insight into the interior.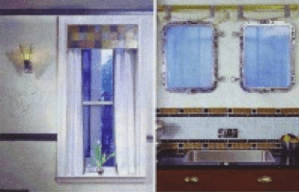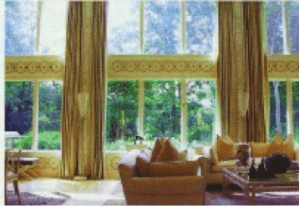 *Note – Article adapted from print. Images reflect reduced quality.
Click here to view original print article.
____
Like this post?
Subscribe to our newsletter for more design tips, tricks and insights!