"You're The Top:" High-End Design In A Luxury Marketplace, Part 2
"Eye on Design" Archive from Mann Report (Article By Gail Green)

With the luxury marketplace doing better than ever, high-end luxury design and real estate is flourishing. Apartments at the top, that is, luxe, custom residences, are finding buyers who consider now a very good time to invest. It may not be the "Coliseum," but the size of many of these homes come close. And the price is right. A bit more room for price negotiation, an available international buyer, and accessible quality tradesmen all make this a very amenable time to buy, renovate, design and decorate.
The Modern Kitchen
With luxe homeowners now seeking quality investments that assure them a notable return, the renovated kitchen is one place where such inflows of money create great value. As Daniella Kunen, of Douglas Elliman notes, "State-of-the-art kitchens add great value to the luxe apartment. And, that while styles change, a modern kitchen always finds its place, even within the traditional medium." It is the layout that insures a well-working kitchen, large or small. Great design dictates the most successful use of space and, along with style and sense, creates a seamless partnership. In addition, the modern kitchen is no longer the province of mere preparation. As for the 21st century, expect kitchens to now possess computer panels that regulate the operation of appliances, computers, clocks, etc., all with the point of the finger. With finishes and materials so refined and well designed, kitchen cabinets look as though they would feel right at home in the living room. Discreet is the byword, with appliances camouflaged to look like beautifully crafted cabinetry. Nowhere else in the home has there been such meteoric advancements.
Modernist Bath
Bathroom artistry has been elevated to classic simplicity and elegance. No more obtuse sinks and clunky water closets. Cool, calm, collected fittings and fixtures that belie their function are welcomed into the bath cum resting place. The luxe bathroom, like its sister kitchen, is multi-faceted. Here, the homeowner can bathe in tubs resembling water pools, use toilets that mime hat boxes, dry off on plush terry-clothed furniture or watch Bloomberg reports on a sleek television hidden within the medicine cabinet. In addition, with the waterproofing of leather, bath walls are now lined with these supple and soft tiles. The pristine cool look of Corian, which European design has perfected, is skillfully sculpted into organic forms, whether as a counter, sink or rub. The handmade tiles of Erin Adam are perfect for the luxe bath. Albeit its price, its artistry resides in its intricate yet subtle arrangement of broken ceramic or glass pieces, magnificently arranged as though upon a painter's palette. Mediating somewhere between chrome and brass, nickel is a favored finish for faucets and bathroom hardware. Its color provides a richness less obvious than its cousins.
Another evolving trait of the haute-luxe home is the multi-purpose room. As Douglas Wright of Miller Wright Architects notes, "Prior to 2008 an entire room was being designed around a single function. Now these spaces are combining to be more practical, albeit quite grand. The finishes and materials are luxe, while the purposes numerous. For example, the separate dining and family rooms of the past have now transformed to create a single great room." No diminished largesse here.
Residing "at the top" of the Waldorf Towers, Cole Porter knew and popularly voiced the music of a "luxist" time and place. It is this elegant, classic look and lifestyle to which the high-end homeowner aspires – quiet, comfortable, yet radiantly luxe.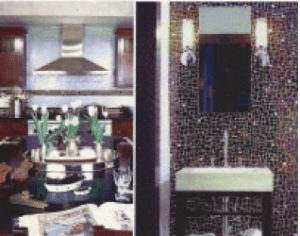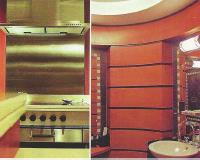 *Note – Article adapted from print. Images reflect reduced quality.
 Click here to view original print article.
____
Like this post?
Subscribe to our newsletter for more design tips, tricks and insights!