Would You Ask Your Waiter To Cook Your Dinner?
"Eye on Design" Archive from Mann Report (Article By Gail Green)

We discussed the how's and why's of the DIY movement and its loss of value to the consumer. Then, reading examples of its ineffective execution, we learned about its deleterious effect upon design. Now, we we'll see how the client can most benefit from a professional TEAM, saving them dollars instead of just picking up pennies!
In addressing this issue, I defer to my colleague Pete Walker, who in his parable, describes the following:
"Pretend we are all in a little open boat and we have to cross a raging river full of hippos and crocodiles. The boat is the project and the people in the boat are all the participants. So, we are all in the same boat. The architect is there, the real estate broker, the interior designer, the clients, their kids, their pets, the general contractor, everyone. We all have to work as a team, and we all have various skills. The point is this: Someone has to steer, someone has to look out for rocks, crocs and hippos. Someone has to shoot the hippos if they get too close, a bunch of people have to paddle like crazy and others have to bail the water out so the boat doesn't sink. The point is to get everyone to understand they each have a hat to wear and they have to know what their responsibilities are."
Teamwork– We each need to do what we do best. And that goes for the DIY client! When clients play the role of designer, and contractors play the role of architect and all our professional responsibilities are scrambled, we start swimming in troubled waters. So much of the issue revolves around the public not being educated as to what each of us does, believing that contractors or even real estate brokers can dictate the shots on design, or that architects build, etc. Were it simply a matter of style or taste, it would be all too easy. But, design is not so simplistic. It involves years of professional training and experience. Would you ask your waiter to cook your dinner just because having him do so would save you money? Really saving dollars instead of picking up the pennies involves using the proper trades. Collaboration is key, each of us bringing value to the process. It is a system of checks and balances, with our making sure that all the pieces are properly fitted together and to the benefit of the client.
Problem Solvers-Coming up with the best possible aesthetic and functional solutions. We ask the right questions, gaining insight into a client's needs and desires. In fact, we assist the client to see a clearer sense of their program. In addressing a clients' wish list with respect to budget, we help them prioritize, getting the most out of their investment. So, too, we foresee issues that inhibit cost overruns.
Scale, Proportion, Ratio-We understand how space works and what makes it work most effectively. Knowing about proportion, scale, and ratio, we design spaces that are well-balanced and harmonious to the living and working environment. The living room flows into the dining room, the dining room into the kitchen, and so on. Good design involves knowing about spatial relationships; that is, it involves knowing how the inside relates to the exterior, whether that be the landscape to the house, or the furnished interiors to the walls.
Expertise-Design professionals understand how things are put together. They know how to translate ideas into reality, ensuring the proper use of materials and finishes. It is a holistic perspective, understanding how inside meets out, how function meets form. Bringing the idea from 2D to 3D is the Contractor's job. Based on the professional's drawings, the contractor executes the architect's design. Choosing paint color for a room is a case in point. Believing it is a matter of preference, a client will choose a color, which they stylistically prefer or think "goes." They don't know about light reflectivity or how and where paint is applied can affect the aesthetics and feel of a room.
Vision-We help the client see the big picture. Designers and architects know how a client's program and budget work together. We develop a concept that aesthetically and functionally suits the customer's lifestyle preferences, habits and individual tastes. We ingest all these preferences, creating one harmonious concept.
Sources- Designers and Architects have a complete set of resources available to them. These resources provide both cost-effective and aesthetic choices that are simply not accessible to the consumer but are to-the-trade only workrooms. Here, quality furniture and materials are created, fabricated, and sold. In addition, unusual materials like that of horn or straw or shagreen are made in ateliers, unknown to the consumer.
Money Saving Skills- Through our teamwork, we have available the expertise and skills to prevent, as much as possible, design mistakes. A proper system of checks and balances insures a successful project. So, while seemingly more expensive in the short run, using the right team of professionals saves the client lots of time and money in the long haul.
So, would you have your cook be your waiter, or your waiter your cook?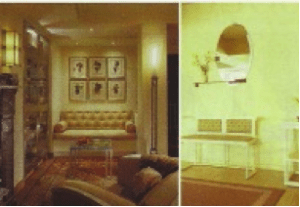 *Note – Article adapted from print. Images reflect reduced quality.
Click here to view original print article.
____
Like this post?
Subscribe to our newsletter for more design tips, tricks and insights!