Too Many Walls, Not Enough Bridges: A Wall Within
"Eye on Design" Archive from Mann Report (Article By Gail Green)

While Sir Isaac Newton believed that "We build too many walls and not enough bridges," he wasn't focused on interior architecture. And, of course, Newton was being metaphorical. Literally, he wasn't too off mark, because, in many ways, bridges are walls, in the sense that they create a physical separation within space, while simultaneously connecting them.
Walls separate and unite. They help distinguish one space from another, and in so doing, create two spaces from one (if building a wall up to the ceiling), or one from two, (if one removes the wall). They unite spaces in bridging one to the other, creating an important relationship between adjoining and contiguous areas.
Walls can be straight or curved, tall or short, thin or thick. In addition, while we traditionally think of walls made of sheetrock, they can be fabricated out of glass, wood, fabric, metal, stone, light, even trees. There is no limit to the imaginative aspects of a wall. The brilliant thing about them is that they can be functional and beautiful, at the same time. They can evoke mood and feeling, surprise and delight, create an attractive backdrop or simply be an aesthetic objet d'art unto itself.
The glass wall partitions designed by the French company, Fred & Fred, are one such example. While in France, I had the opportunity to see their beautiful work and how they transform the mundane into the sublime. No mere piece of sandblasted glass, their walls were made of different materials and different colors. This is architectural seduction at its best. It leads the viewer to its plane, and then, up close and personal, it becomes a camera obscura. This brilliant design is a bridge to the functional, aesthetic and intellectual. The beauty of the glass block wall is its ability to transmit light. In this way, it acts as a bridge, a transmitter between wall and light source. The architect Pierre Chareau, whose Maison de Verre in Paris is a masterpiece of wall light, knew the advantages of using the material. Even in a New York City apartment, these walls are extremely effective in creating a light, airy feeling to two adjoining spaces. Cleverly used by the professional, glass block allows the light to be transmitted, while precluding a less attractive view, say an alley, beyond.
A most effective wall is the half-wall; that is, the wall that rises up, but not all the way. This typical sheer rock partition, though firmly rooted, seemingly floats in space, giving a sculptural feel to the room. It may be curved, straight, tall, short; in face, any number of configurations in any number of materials may be effectively used here. Oftentimes, this type of bridge consists of a piece of cabinetry built up three quarters of the way to the ceiling to visually separate two areas. Not a full wall, it gives a modern feel to space and is an extraordinarily successful treatment in apartments or lofts, where a more open, airy feeling is desired.
Hole-ly walls? They are walls that have openings in them; they let the viewer peek from one room through to the next, as if by surprise. These apertures may be round, rectangular or any shape which the architect's imagination can conjure. The Pantheon, whose oculus pays homage to the sun, is one such example. It permits the sun to bathe the building in light, bridging outside to in, sacred to profane.
Some very sensual walls are made of wood. Exotic amboyna, burls, etc … in sculpted forms lead the viewer from one area to another, bridging the seen and the suspected. These highly precious and expensive forms of space separation are elegant. At the opposite end of the wood spectrum, yet no less imaginative or pricey, are walls made of trees, literally. Bleu Nature of France, who create these more rustic driftwood partitions, give the viewer a sense of the outside, as though one could literally bring the sandy beaches of France back home.
Metal walls are most unique and more common nowadays. Whether of nickel or bronze, silver or brass, these are sturdy constructions that accomplish the task at hand. Though they do not transmit light, they can reflect it. Like a wall of mirror, images case upon a metal wall are directed back at the observer. As such, they are effective in opening up a space, making it appear twice its size.
Last, but not least, is the holographic wall. Though matterless, it's projected image creates an imaginary three-dimensional representation of an object. It is, in effect, a visual screen, bur unlike its cousin, one can literally walk through it. And, all its sides are visible. Yet, this visionary partition connects observer to space and space beyond, providing a bridge into the future.
So, Mr. Newton, there really aren't too many walls, but as you would profess in your treatise, all matter is truly connected-with plenty of bridges between.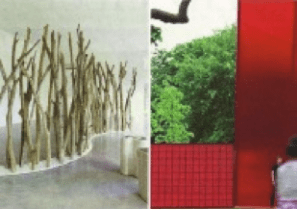 *Note – Article adapted from print. Images reflect reduced quality.