Suddenly Single: Bachelor Dads With Well-Dressed Pads?
"Eye on Design" Archive from Mann Report (Article By Gail Green)

With the divorce rate at over 50% in America, it comes as no surprise that there are two familial homes. The primary home is usually that of the mother and children, while the second familial house is that of the father and his kids who live with him part-time. This is the story of ten or so single dads who went through the grueling process of leaving one home in search of another. It specifically relates to the properties they moved into and their eventual decoration, or lack thereof.
For most of the men I interviewed, the act of finding another home was a horrific process. It sometimes came as a surprise that they had to move, sometimes it was much anticipated. And some were even escorted out, without even the time or privilege of finding immediate shelter. Either way, the process for them was forced and complicated. Almost all looked for and found a home within ten miles of their family residence. And almost all found solace in a place that was more motel-like than warm and cozy. The average rime it took to find a new home was about five months, though most men left it until the last month or so to look. Some even moved back in with their parents, despite being in their forties. "I had no choice," one father told me. "I couldn't afford the maintenance of a large house and that of another. My parents finished their basement, and I moved right in."
With the father supporting house and home, the idea of finding a new residence was a matter of location and financial capability; the idea of decorating was, for most, incidental. Close in proximity to the familial home, the dad's new pad could and would accommodate his children's overnight and weekend stays but really not much more. Staying in the same school district and in a "good neighborhood for children," as one dad told me "was of the utmost importance." While each child had his or her own room, albeit a small one, the children had little space for toys, books or other accoutrements to which they were used. And while there were walls in their spaces, most children's rooms were not permanently decorated with pictures or the like. Instead, posters were scotch-taped to the wall above or to the shelves of their bookcase.
In actuality, these men moved from 6,000-square-foor homes to a temporary 1,000-square-foot apartment. Most dads spent more on their monthly rent than anticipated. And, with exception of a few, almost all men rented rather than bought, at least, at first. Sometimes they used a broker, sometimes Craigslist and sometimes a friend to find a place.
Where the divorce was amicable, the relocated father took some family furniture. But, for the most pare, I was told, "I needed furniture right away. So, on my own and sometimes with the help of my mother or sister, I went to a nearby store and bought everything I needed right then and there. It was no-frills shopping."
Most men moved into rental apartments or rental townhouses; none used an architect or designer right away. Eventually, when they sought more comfort from their home, and, I suspect with the realization that they were not moving back into their familial home, they decided that 'rental-beige' was not the answer. While their children were initially their major concern, they came to believe that they too had choices and preferences.
One dad explained that he "hated the long flight of stairs with its 70 or so steps to climb." He is now looking for a residence more to his liking, more amenable to his comfort. With his children now several years older and hardly staying over anymore, there is no sense of urgency to have everything just so for them. "It's my turn," says one father. "This place meets my functional needs, but aesthetically it is too plain – too boring, too beige. It looks like a rental. I'm not proud of it."
And with a change of attitude came a desire for change of place. Most fathers decided to find something more to their liking, more in line with their tastes and needs. So, they moved. Some rented again, some bought; but most men found a significant other who changed the way they lived. And that significant other, together with the man's renewed interest in 'the home,' brought changes to his habitation.
Ready to begin life anew, he and his friend retained a broker to find a larger, more accommodating residence. No more bland beiges, now blacks and grays, greens and reds were now added to create a more masculine palette. "I want a more modern, sleek look" was a familiar request. "I would like a minimalist, simple and practical approach to my home." And, with that desire, came the help of the designer, who guided them in the process of selection and style. Some of these bachelors even felt that they would attract more women by having a nicer, more congenial place to live, thus adding to the value of their apartment!
Suddenly single no more; the single dad now has a well-dressed pad.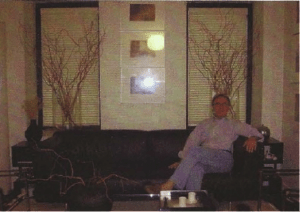 *Note – Article adapted from print. Images reflect reduced quality.
Click here to view original print article.
____
Like this post?
Subscribe to our newsletter for more design tips, tricks and insights!