Paint: "Any Color … As Long As It's Black"
"Eye on Design" Archive from Mann Report (Article By Gail Green)

Paint, one of the most inexpensive and important elements of design, was not one of Henry Ford's favorite interests. In his reference to cars all being painted black, Ford wanted to maintain an identity, a branding if you will, for the automobile he created.
As homeowners, we have a vast array of choices, black among them. In fact, New Yorkers are famous for loving black in their apparel and accessories. But other than on pieces of furniture and the occasional granite counter top, black is not a favorite wall option, albeit a strong and powerful design statement in the home.
Color is probably the easiest variable to change. The first thing a new homeowner does, if they are not renovating or building, is paint. And, while it can be an expensive line item, with skim coating and preparation, it usually fits quite comfortably within the client's budget, however small. Paint can change the look of a room from formal to casual, from serious to whimsical, from mature to youthful. It is part of the magic that an interior designer manifests in creating a room's appearance.
Paint can define spaces, create distinct areas without having to build walls. It can also create interest in its placement, moving the observer's eye from one wall to another. For instance, were all the walls in a room painted stark (decorator's) white, it would evoke a spare, minimalist feeling. Were the space painted dark green, one would gather it more suitable for a library or club. And, if a room were colored with pink and blue stripes, most probably it would be a nursery. In addition, colors change with the light of day or night, so that a sofa looking periwinkle blue when in the sun, may very well appear lavender in the shade. So, yes, color does define by intention, by subtlety, by design. As the Benjamin Moore company notes: "Paint color is a most powerful decorating tool. There are important decisions to make in selecting paint, and so it's best to confer with a professional designer who has the experience and knows exactly what works best."
In addition to the diversity added by paint color are the numerous techniques employed to make it look different. A favorite technique, especially in the kitchen for its easy maintenance and in the living and/or dining room for its elegance, is Venetian stucco. This technique, with its many layers of plaster, evokes a feeling of depth and movement. It is also wonderful in the way it reflects light, as its sheen bounces light off of its surface. Having recently painted an 18' ceiling a charcoal silver gray Venetian stucco, the clients were amazed that they could see their reflection above. A supremely talented artist and decorative painter, Stephen Pusey, created this ceiling and, for another client, Linda Foa, a library almost completely painted in a crosshatched pattern. It is so subtle, yet so elegant, with the light being caught between the horizontal and vertical lines, it reflects light throughout. Pusey of Consortium Arcs states: "A painted or 'special' finish brings a vibrancy to a room and is the perfect complement to any design, traditional or modern. While the effects that can be achieved are limited only by the artist's imagination and knowledge of materials."
For a simpler, yet completely elegant look, a striae technique accomplishes the effect. Its consistent, vertical lines do wonders for a low-ceilinged room, heightening the space. Ragging, sponging and other similar techniques also add interest. Some unusual paint applications are as follows: writing or scribing words on walls, drawing pictures on painted surfaces, creating artistic compositions, like those of Sol LeWitt, directly onto the wall creating whimsical, ingenious and imaginative compositions. In effect, the wall becomes a work of art. As art collector Paul Frankel notes, "My LeWitt enhances and gives definition to my dining room, bringing both aesthetics and integrity to the space."
Paint is a wonderful decorative tool; it enhances, illuminates and enriches. If applied and specified professionally, it can bring a room to life. Whether the designer uses many colors to achieve his effect, or one, employed correctly and with purpose, even black can have a very powerful effect on a wall. Reinhardt and Nevelson are some well-known artists who found truth in the monochromatic fields of black paint; they sought a reality within the depth of vision within a single color. So, Mr. Ford, perhaps you were ahead of your time!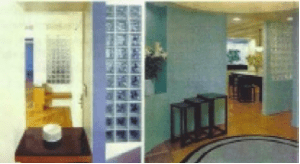 *Note – Article adapted from print. Images reflect reduced quality.
 Click here to view original print article.
____
Like this post?
Subscribe to our newsletter for more design tips, tricks and insights